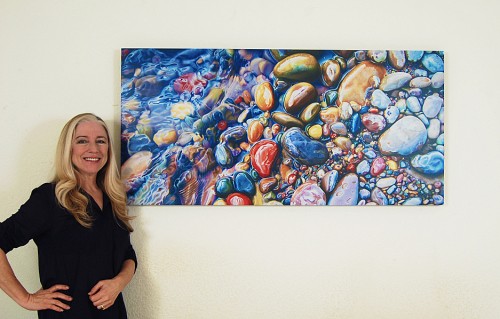 I'm happy to introduce the oversized limited edition of 30 giclees of Yesterday, Today and Tomorrow.
Each giclee:
measures 25" x 52" (more than double the surface of the original)
is digitally captured and faithfully reproduced using state-of-the-art technology and archival inks
is individually proofed, numbered and signed by myself
is printed on UV coated, extra-fine texture canvas, gallery wrapped on 1-1/2 inch deep bars with black edges
is hand varnished by myself to mimic the glossy finish of the original
comes with a Certificate of Authenticity
sells for $950, plus S&H
Two weeks ago I sold giclee #1/30. Next week it will be on its way to San Jose, California.
Edit (10/18/12): read what Katherine Tyrrell wrote about this post on her blog MAKING A MARK. To find her comment, scroll down to the Artists and Art Blogs section.