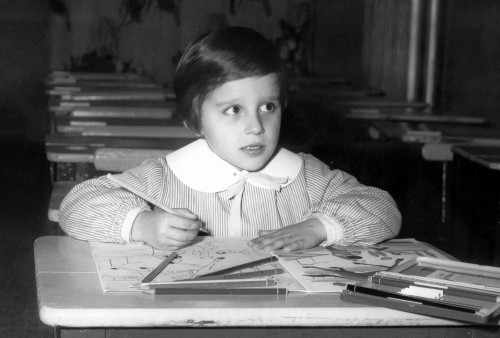 Artist Statement
In the last several years I have been painting flowers and rocks and their interaction with water. I study them above and below the surface, and observe how their visual characteristics change and relate to each other.
I relish the contrast between a solid rock above the surface and its restless reflection below; the realistic depiction of a floating daisy versus its abstract, refracted counterpart. I marvel at how a flower can take on a new identity when floating below the surface and I strive to capture its ever-changing shape.
Water transforms everything it touches: hard lines become soft, warm colors cool, solid shapes break down into parts. Realism evolves into abstraction and the ordinary becomes extraordinary. The interplay between these realms is an endless source of inspiration for me.
I choose to create with wax and oil pastels and colored pencils for their directness and simplicity. My process consists of a combination of drawing and painting. I alternate between working on cool and warm paper using the heated drawing board I invented. The heat helps soften or melt the waxy pigments so they can be easily manipulated and blended in a painterly fashion. When finished, the artwork is mounted on a cradled board, varnished, framed and shown without glass.
I slowly came to realize how even my technique is a way to explore the relationship between opposing realms. I tirelessly switch from drawing to painting, from hard to soft, from wet to dry. One alone won't satisfy me and having both is now a passion.
When I am in the midst of creating I become enchanted by the magic of water. Water represents the world of fantasy and imagination, where anything can happen and the unusual is never questioned. The world above water, ever brilliant, solid, and warm, can be at times rigid or harsh, and needs to be tempered by the softness and coolness below. My endless challenge, as an artist and as a human being, is to find a balance between the two.
Biography
Ester Roi was born and raised in Vicenza, Italy, 35 miles west of Venice. From an early age she showed an uncanny ability to make things with her hands, improve on things, or envision new approaches to learning. Her inherent affinity to colors became her primary visualization and memorization tool that allowed her to excel in art and to acquire innumerable skills including music reading. While those formative years in Italy provided Ester with an unsurpassed exposure to classical and innovative creations, it was her trailblazing spirit that brought her to America.
Her art is characterized by brilliant colors and sharp details and an ongoing fascination with natural objects surrounded or immersed in water. The rocks and flowers in her paintings are observed above and below the surface, and the visual changes that water imparts to their shapes and colors are meticulously recorded. Ester strives to capture the interplay between realistic images and their abstracted counterparts and to integrate them harmoniously. Perhaps this is her way to merge the past with the present and the old world with the new. Is the Venice of her youth, with its saturated colors and mesmerizing water reflections, slowly resurfacing in her art?
After working in oils for several years, she returned to her roots by adopting the mediums she used as a child, colored pencils, artist crayons and oil pastels, for their directness and simplicity. One of her proudest accomplishments is the invention of the Icarus Board™, a portable, electric drawing board for wax-based drawing media. The heat helps soften or melt the waxy pigments so they can be easily manipulated and blended in a painterly fashion.
Ester's art received numerous awards and has been exhibited widely in juried exhibitions and museums throughout the country including: the renown Laguna Beach Festival of Arts, the Museum of the Living Artist in San Diego, CA; the Art Museum ofLos Gatos, CA; the Colored Pencil Society of America International Juried Exhibitions in Texas, California, Washington, and Maryland; the Westin Emerald Plaza Hotel in San Diego, CA; and many other national and local exhibitions.
Some of her other accomplishments are two coveted Signature Status Awards from the Colored Pencil Society of America. Her invention, the Icarus Drawing Board™, received the The Making a Mark 2011 and 2013 Art Innovation of the Year Awards. Her artwork can be seen worldwide on the latest box of Prismacolor Colored Pencils.
Her art has graced the cover of many magazines like Pratique des Arts (France),Colored Pencil Magazine, and To the Point News Magazine. Ester's artwork and technique have been included in various books such as CP Treasures by Ann Kullberg, The Ultimate Guide to Colored Pencil by Gary Greene, Colored Pencil Secrets for Success by Ann Kullberg, and Colored Pencil Painting Bible by Alyona Nickelsen.
Ester is a member of the Colored Pencil Society of America, the Laguna Beach Festival of Arts, the Art-A-Fair of Laguna Beach, and the San Clemente Art Association of San Clemente. She received her formal art education in Italy and in the United States at Fullerton College and Orange Coast College. She has lived in Southern California since 1978 and currently resides in San Juan Capistrano with her husband and two sons.
Resume
Publications
2018 - Poets and Artists Magazine, "Glorious Color" issue, "Social Network" featured
2018 - Talking Point, UK Coloured Pencil Society's quarterly magazine, front cover and six page interview
2017 - PhD thesis by Shauvik De, Viscoelastic Flow Modeling for Polymer Flooding, "Everlasting", front & back cover
2017 - The Art of Education Magazine, 18 Incredible Contemporary Artists Your Students Will Love, September 22
2017 - Discovering Drawing by Sallye Mahan-Cox, Davis Publications, US highschool textbook, "Impasse" on p. 18
2017 - The Grapevine Magazine, Label Design is a Work of Art, "Crescendo" featured
2016 - Sharpened Artist, Podcast Interview, August 22
2016 - COLORED PENCIL Magazine, Evolution of the Icarus Board Technique, June issue, pp 22 - 27
2015 - Rocks & Minerals Magazine, July/August issue, pp 352 - 354
2015 - CREATIV Magazine, May issue, pp 40 - 41
2014 - Drawing 365, book by Katherine Tyrrell, pp 130 & 163
2014 - The New Colored Pencil, book by Kristy Ann Kutch, Icarus Drawing Board, pp 66 & 132
2013 - Dreamstarter, book by CPSA Chapter 214, Los Angeles
2013 - The Orange County Register, Art-A-Fair lines up artists for its summer show, 2/11/13
2013 - To The Point News Magazine, Winter Issue, Reflections on My First Art Festival on p. 19
2012 - Orange Coast Magazine, August Issue, Artist Spotlight, "Social Network" on p. 50
2012 - CP Magazine, August Issue, Festival of Arts Exhibit Highlight on p. 3
2012 - CP Treasure, book by Ann Kullberg, "Social Network" and artist featured on p. 10 and 77
2012 - CP Magazine, February Issue, contributing artist in Art Biz section
2012 - Colored Pencil Magazine, January Issue, featured artist, pp 12 - 15
2012 - Colored Pencil Magazine, "Social Network" on front cover
2011 - The Ultimate Guide to Colored Pencil, book by Gary Greene, Icarus Drawing Board, pp 59 & 214
2010 - To The Point News Magazine, Workshop Review Article
2010 - Pratique des Arts Magazine, France, The Butterfly Effect featured on front cover
2010 - Pratique des Arts Magazine, France, Across My Universe featured in Portfolio section
2009 - FMP Magazine, Across My Universe featured on Showcase Page
2009 - To the Point Magazine, Popping Out featured on front cover
2009 - Colored Pencil Secrets for Success, book by Ann Kullberg, featured on pp 118 & 119
2009 - Colored Pencil Painting Bible, book by Alyona Nickelsen, Icarus Drawing Board, p. 9
2008 - FMP Magazine, Melt your cp!, step-by-step article
2007 - Capistrano Independent News, Ester Roi Wins First Price in Prestigious Magazine
2007 - The Artist's Magazine, "Appassionata in F Minor" featured as the First Place Winner
2006 - FMP Magazine, Featured Artist
2006 - Capistrano Dispatch, Capo Woman Takes Art Honors
2006 - Orange County Register, San Juan Woman Wins County Art Prize
Selected Exhibitions
2017 - County Government Center, Atrium Gallery, Ventura, CA
2013 - Pencil Painting, CPSA Los Angeles Chapter, Cypress, CA
2012 - Mission Trails Regional Park Art Gallery, Group Exhibit, San Diego, CA
2012 - Dana Point Ocean Institute, Group Exhibit, Dana Point, CA
2012 - Black is Back, Festival of Arts Exhibition, Laguna Beach, CA
2012 - Festival of Arts Preview Exhibition, Laguna Beach, CA
2012 - Laguna Beach Festival of Arts, July and August, Laguna Beach, CA
2012 - Pencil Painting, CPSA Los Angeles Chapter, Cypress, CA
2012 - Explore This! 8, Colored Pencil Society of America's Online Exhibition
2012 - Winter Judged Show, San Clemente Art Association, San Clemente, CA
2011 - Museum of the Living Artist, Balboa Park, San Diego, CA
2011 - Pencil Us In, CPSA San Diego Chapter Exhibition, San Diego, CA
2011 - 19th Annual Colored Pencil Society International Exhibition, Dallas, TX
2011 - Pencil Painting, CPSA Los Angeles Chapter, Cypress, CA
2010 - Westin Emerald Plaza, CPSA San Diego Chapter, San Diego, CA
2010 - 18th Annual Colored Pencil Society International Exhibition, Los Gatos, CA
2010 - Pencil Painting, CPSA Los Angeles Chapter, Cypress, CA
2010 - Spring Judged Show, San Clemente Art Association, San Clemente, CA
2010 - Explore This! 6, Colored Pencil Society of America's Online Exhibition
2009 - Winter Judged Show, San Clemente Art Association, San Clemente, CA
2009 - Fall Judged Show, San Clemente Art Association, San Clemente, CA
2009 - Summer Judged Show, San Clemente Art Association, San Clemente, CA
2009 - The Red Space… In Between, CPSA San Diego Chapter , San Diego, CA
2009 - Pencil Paintings, CPSA Los Angeles Chapter, Cypress, CA
2009 - Spring Judged Show, San Clemente Art Association, San Clemente, CA
2009 - Explore This! 5, Colored Pencil Society Online Exhibition
2008 - San Clemente Art Association Winter Judged Show, San Clemente, CA
2008 - Serra Mesa/Kearny Mesa Library, San Diego, CA
2008 - 16th Annual Colored Pencil Society International Exhibition, Seattle, WA
2008 - 9th Annual Member Show, FMP Magazine
2008 - Orange County Annual Visual Arts Exhibition, Costa Mesa, CA
2008 - San Clemente Art Association Summer Show, San Clemente, CA
2008 - Saddleback Art League 9th Annual Fine Art Exhibition, Mission Viejo, CA
2008 - San Clemente Art Association Garden and Flower Show, San Clemente, CA
2008 - Gallery 21, San Diego Chapter, Colored Pencil Society, San Diego, CA
2008 - Pencil Paintings, Los Angeles Chapter, Colored Pencil Society, Cypress, CA
2008 - San Clemente Art Association Spring Show, San Clemente, CA
2007 - 15th Anniversary, CPSA San Diego Chapter, Poway, CA
2007 - 15th Annual Colored Pencil Society International Exhibition, Bethesda, MD
2007 - 8th Annual Member Show, FMP Magazine
2007 - The Artist's Magazine All-Media Online Exhibition
2007 - Explore This! 4, Colored Pencil Society International Exhibition, Brea, CA
2006 - Theme Show, FMP Magazine
2006 - Orange County Annual Visual Arts Exhibition, Costa Mesa, CA
2006 - 7th Annual Member Show, FMP Magazine
Selected Awards
2012 - Award for Outstanding Recognition, CPSA Explore This! Exhibition, River Odyssey
2012 - First Place, Winter Judged Show, San Clemente Art Association, River Odyssey
2011 - Award for Exceptional Merit, 19th Annual CPSA International Exhibition, Social Network
2010 - Award for Exceptional Merit, 18th Annual CPSA Exhibition, The Lightness of Being
2010 - First Place, Pencil Painting Exhibition, CPSA Los Angeles Chapter, Above and Below
2010 - First Place, Spring Judged Show, San Clemente Art Association, The Butterfly Effect
2010 - Best Of Show, Explore This! 6, CPSA Online Exhibition, Above and Below
2009 - First Place, Fall Judged Show, San Clemente Art Association, Above and Below
2008 - Finalist, 25th Annual Art Competition, The Artist's Magazine, Into the Light
2008 - Finalist, 25th Annual Art Competition, The Artist's Magazine, The Fire Within
2008 - First Place, Winter Judged Show, San Clemente Art Association, Into the Light
2008 - Award for Excellence, 16th Annual CPSA International Exhibition, Into the Light
2008 - Best of Show, 9th Annual Member Show, FMP Magazine, Into the Light
2008 - First Place, Saddleback Art League 9th Annual Exhibition, Into the Light
2008 - First Place, Gallery 21, CPSA San Diego Chapter, Daffodil
2008 - First Place, Spring Judged Show, San Clemente Art Association, Preludio
2007 - First Place, 15th Anniversary Exhibition, CPSA San Diego Chapter, Appassionata in F Minor
2007 - People Choice Award, 15th Anniversary Exhibition, CPSA San Diego Chapter, Preludio
2007 - First Place, The Artist's Magazine All-Media Online Competition, Appassionata in F Minor
2006 - First Place, Orange County Annual Visual Arts Exhibition, Magnolias
Teaching
2017 - The Icarus Technique, demonstration, CPSA San Diego Chapter, Feb 11
2015 - Forget All the Rules You Learned and Be a Colored Pencil Rebel, demo, CPSA San Diego Chapter
2104 - The Icarus Technique on Canvas, demonstration, CPSA Losa Angeles Chapter
2013 - The Icarus Technique on Canvas, demonstration, CPSA San Diego Chapter
2012 - The Icarus Technique, July and August demonstrations, Festival of Arts, Laguna Beach, CA
2011 - The Icarus Technique, demonstration, 19th Annual CPSA Trade Show, Dallas, Texas
2011 - The Icarus Technique, demonstration, CPSA Los Angeles Chapter
2010 - Wax and Heat, a Match Made in Heaven, workshop, 18th Annual CPSA Convention, Santa Clara
2009 - The Icarus Technique, demonstration, Pacific Arts Group, Torrance, CA
2009 - The Icarus Technique, mini-workshop, CPSA San Diego Chapter, San Diego, California
2009 - The Icarus Drawing Board, demonstration, 17th Annual CPSA Conventiony, Atlanta, GA
2009 - Glassless Framing, demonstration, CPSA Los Angeles Chapter
2008 - The Icarus Technique, demonstration, American Society of Botanical Artists, Pasadena, CA
2008 - The Hottest Thing in Colored Pencil, demonstration, 16th Annual CPSA Convention, Seattle, WA
2007 - Expand the Boundaries of Wax-based Media, demonstration, CPSA Los Angeles Chapter
2007 - Colored Pencil and Heat, demonstration, CPSA San Diego Chapter
Other Accomplishments
2018 - Large reproductions of "Yesterday, Today and Tomorrow" installed at the Lakeland Regional Health Pavilion for Women and Children, Florida
2018 - International Judge for My Art Studio Competition in Malaysia
2017 - International Judge for My Art Studio Competition in Malaysia
2015 - "Crescendo" selected for the wine labels of Rocky Pond Winery, Washington State
2015 - "Cambria" featured on the new Caran d'Ache Luminance brochure
2013 - The Making a Mark "Art Innovation of the Year" awarded to her blog
2012 - Earns her Second Signature Status from the Colored Pencil Society of America
2011 - The Making a Mark "Art Innovation of the Year" awarded to the Icarus Drawing Board
2011 - "The Three Graces" featured on the latest set of Prismacolor Colored Pencils
2010 - Earns Signature Status at the 18th Annual Colored Pencil Society Convention in Santa Clara
2009 - Judges the 10th Annual FMP Magazine Member Show
2008 - Establishes Icarus Art, Inc. to market the Icarus Drawing Board
2007 - Invents the Icarus Drawing Board®, a portable, electric drawing board for wax-based media
Affiliations
Festival of Arts, Laguna Beach, CA
Colored Pencil Society of America (CPSA)
Los Angeles District Chapter of CPSA, Los Angeles, CA
San Diego District Chapter of CPSA, San Diego, CA
Southern California Artists Association, Laguna Beach, CA
San Clemente Art Association, San Clemente, CA
Education
1987 to 1988 – Orange Coast College, Art and Graphic Design
1978 to 1981 – Fullerton College, Art and Foreign Languages
1969 to 1974 – Liceo P. Lioy, Vicenza, Italy, five years of Drawing and Art History
Personal
1982 - Became an American Citizen
1978 - Immigrated to the United States from Italy