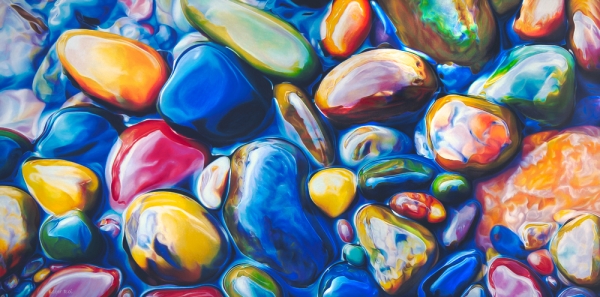 Title: "Unveiled"
Size: 24" x 48"
Medium: Prismacolor Premier, Caran d'Ache Luminance, Derwent Coloursoft, Faber-Castell Polychromos, Caran d'Ache Neocolor I and II, Holbein Oil Pastel
Tools: Tortillions, Paper Stumps and Colour Shapers
Surface: Extra Fine Texture Canvas primed with several coats of clear Art Spectrum Colourfix Supertooth Primer
Technique: Icarus Drawing Board
Presentation: Mounted on a 3/4" Ampersand Claybord, varnished and framed
I'm very proud to have completed this piece, if nothing else for its size alone. It has accompanied me through the trials and triumphs of this past year. It's been a faithful companion even though I neglected it for long spells, at times in favor of other artworks, and later during the long months of my youngest son's illness, surgery and recovery.
It was born out of necessity. I sold its twin brother "In Between", before I had a chance to have it professionally scanned. I had many requests for giclees so I decided to redo it four times its size. Since I was familiar with the subject and technique, I thought I could concentrate on the challenge of working on a much larger scale.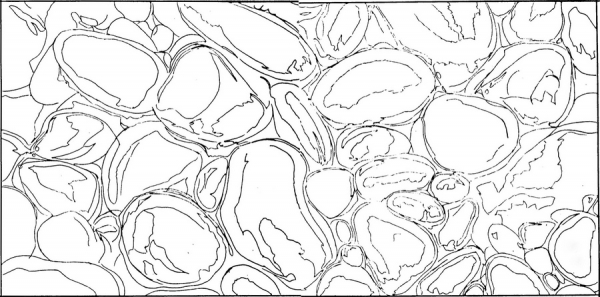 Above is the enlarged drawing I used to trace the outline on the canvas with Verithin colored pencils. I like to use local colors to avoid erasing graphite. On this blog post you can see how I traced it.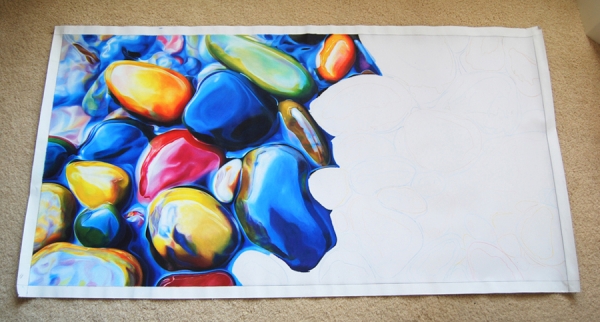 Of course I made some changes along the way. This progress photo shows a large stone on the bottom left corner that I eventually replaced with smaller pebbles. I used an electric eraser to lift most of the pigment and then drew new pebbles on top.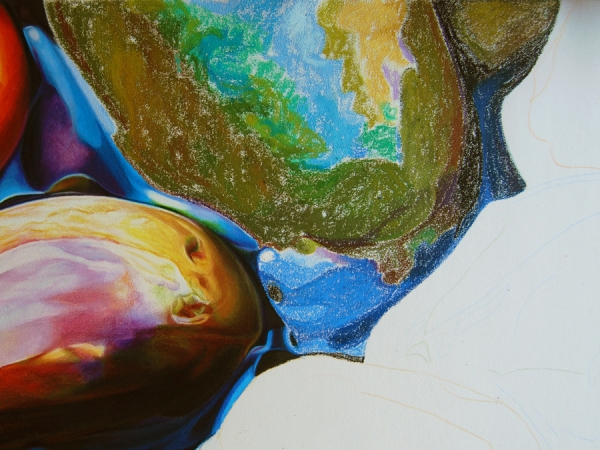 Here I mapped the area with Neocolors and oil pastels. Neocolors are very useful, especially around the edges, because they can be sharpened. Oil pastels come in such a wide selection of colors, I would be limiting my palette if I weren't using them. At this stage I set the temperature of the Icarus board to low.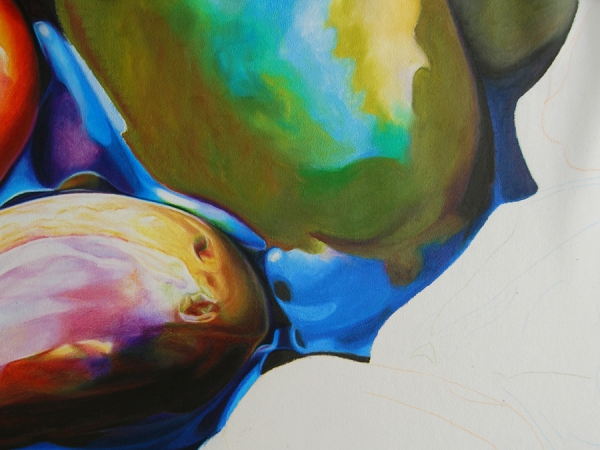 The photo above shows the results of melting the Neocolors and oil pastels. I normally melt at the highest temperature using a colour shaper. Then I blend further and pick up any extra pigment left on the surface with a paper stump. At this point the Colourfix primer's texture has resurfaced again, making the canvas receptive to colored pencils.

Here you can see how I further developed the colors, values and details using colored pencils, with the board set at medium-low temperature. The perfect tools for blending colored pencils are tortillions and paper stumps.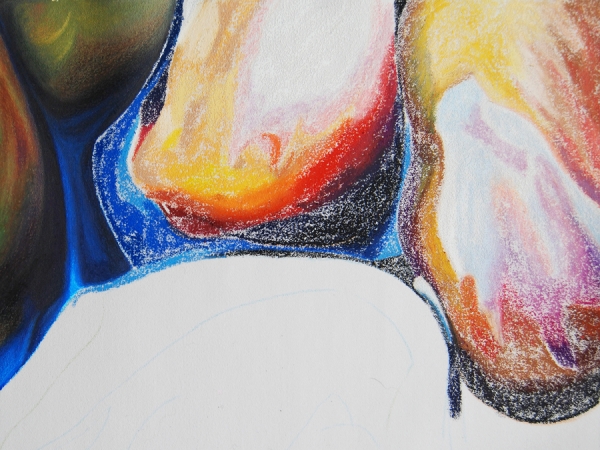 When blocking-in, it's not important to include all color nuances and details. These can be developed later with colored pencils.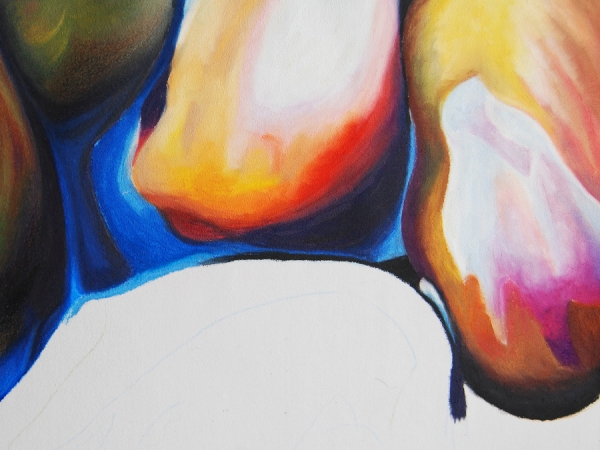 Melting the pigment is probably the most exciting application of this technique. Again, it's not necessary to create perfectly smooth blending at this stage; that's what colored pencils are for.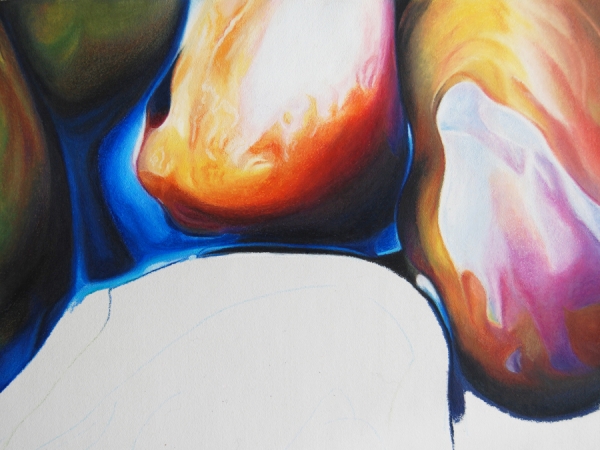 Above is another example of how I developed the colors, values and details using colored pencils.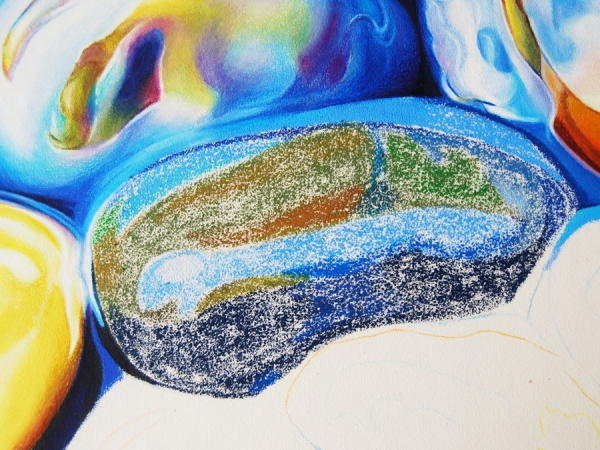 In this third series of close-ups I'd like to talk about how to speed up the process. Mapping with Neocolors and oil pastels is much quicker than mapping with colored pencil. Some of these rocks can measure up to 12 square inches or more!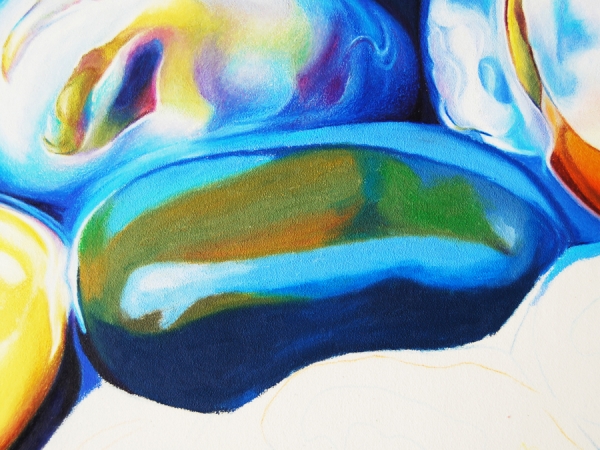 Melting the waxy pigments is a very effective technique for fast coverage of the canvas surface. It compares to dissolving water-soluble Neocolors with a brush, except there's no color or value change with heat.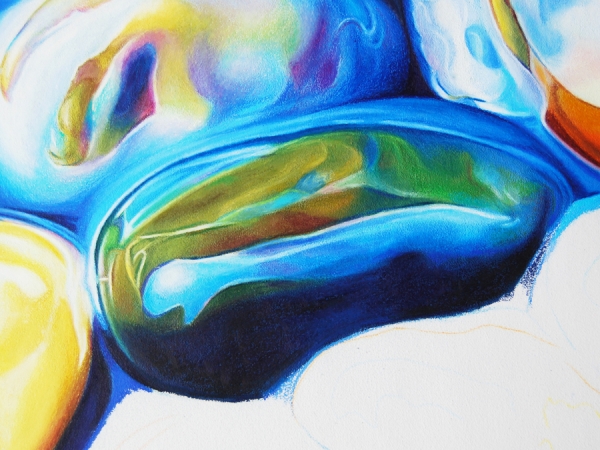 Another valuable time-saving technique is adding all the details at the end. Highlights are time consuming if you need to account for them from the beginning. I created all the thin highlights by subtracting the pigment with a Verithin white pencil and by going over with a softer pencil or with a sharp, white Neocolor.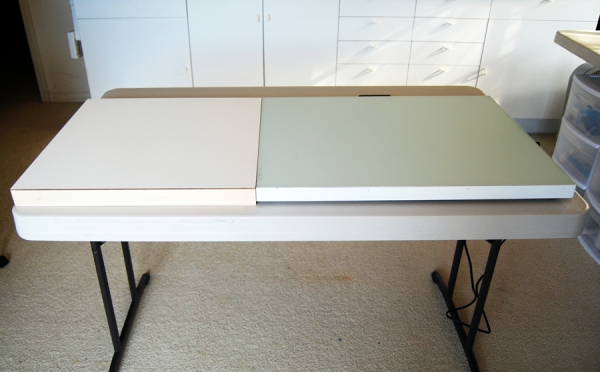 In the photo above I'm showing how I devised an easier way to work with a large canvas. I placed a 20" x 20" claybord, 2" thick, along the side of the Icarus board, thus creating a larger surface for the canvas to rest on.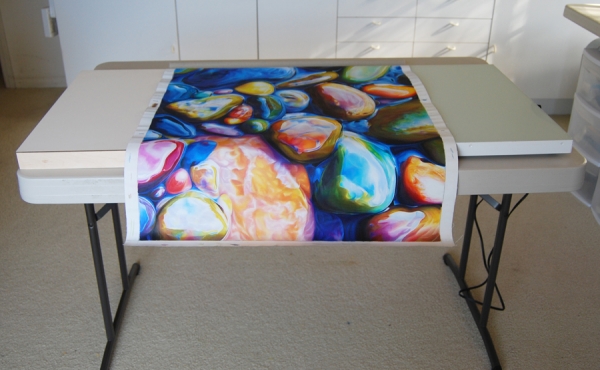 What's appealing to me about working on canvas versus paper is that I don't have to worry about creasing or bending it. Canvas is very flexible and can take a lot of abuse.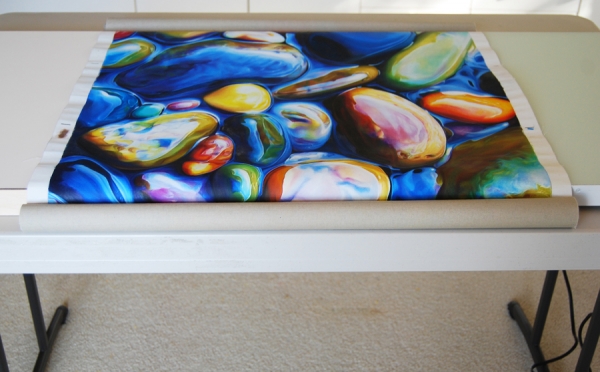 I like to roll up my canvas so that it doesn't hang over my knees. I use two binder clips to keep the canvas from unrolling.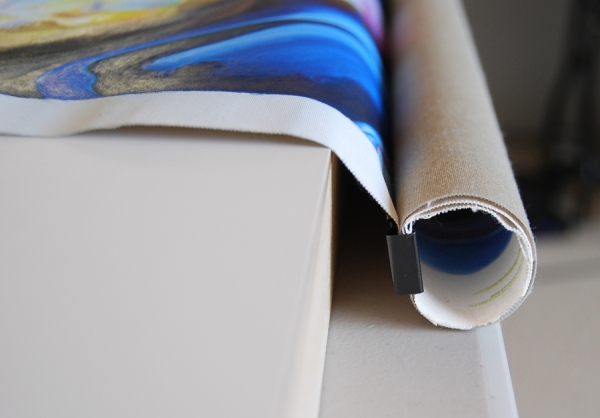 Here is a close-up of the canvas fastened with binder clips.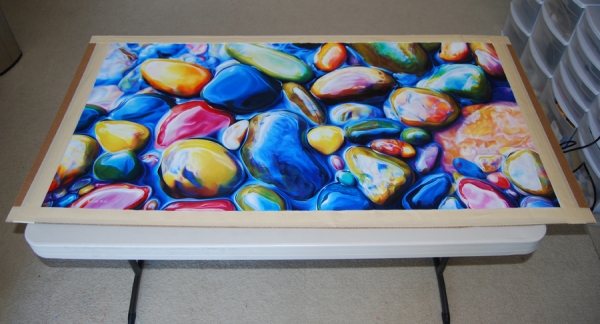 The finished canvas is now taped to a cardboard and ready for spraying.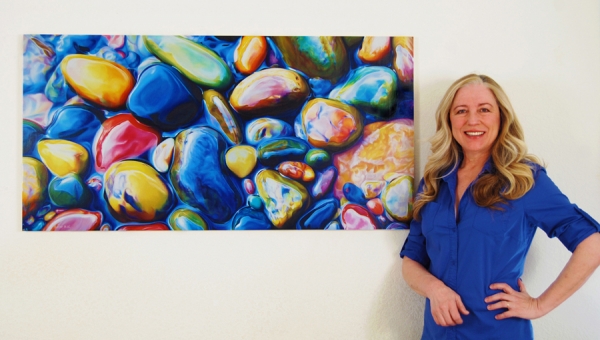 After mounting the canvas on a cradled board, I will then varnish it and frame it.
Unveiled
Outline
Progress
Detail 1 - mapping
Detail 1 - melting
Detail 1 - developing
Detail 2 - mapping
Detail 2 - melting
Detail 2 - developing
Detail 3 - mapping
Detail 3 - melting
Detail 3 - developing
Icarus board set-up
Canvas on the Icarus board
Canvas rolled-up
Close-up of canvas
Ready for spraying
Mounted on cradled board