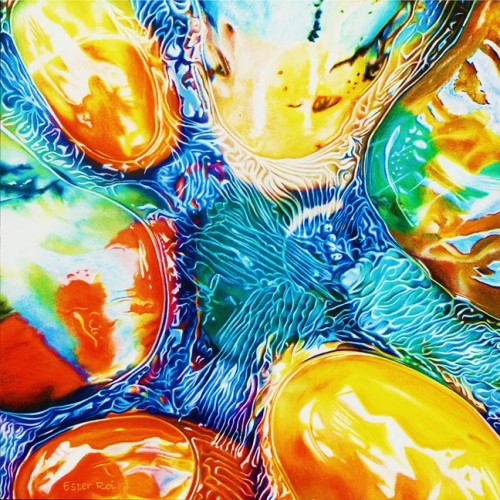 18" x 18" - Wax-based Media (Colored Pencil, Artist Crayon, and Oil Pastel)
Created with the Icarus Drawing Board.
This is my latest work in my pebbles series - a very abstract approach to nature. I took this picture in my studio and I've had the hardest time balancing the colors correctly. I'm fairly satisfied with the results but as soon as I get a professional scan, I'll decide if this image will need to be replaced.
I've had a lot of fun with this project, the subject of which is a group of pebbles I collected on Moonstone Beach in Cambria.
It will be my entry for Explore This! 7, a Colored Pencil Society juried online exhibition which will be on display on the CPSA website for one full year, from February 1, 2011 through January 31, 2012.
Edit (10/24/10): you can read about the specific technique I used for this artwork on a previous post titled A Shortcut for Details.