Amazing colored pencil artist and friend, Arlene Steinberg, is featured in the May 2013 issue of The Artist's Magazine along with other talented artists in the article "Colored Pencil Comes of Age" by Maureen Bloomfield.
Bloomfield says: "One reason Steinberg's color is so intense and saturated is that she works on an Icarus Art drawing board, a portable board that has warm and cool areas; the board is placed under the paper, and the wax reacts to the heated part of the surface" (54).
For a preview of this article visit the Artist's Magazine's blog post "Some Like it Hot/Colored Pencil Art Sizzles".
Below is one example of Arlene's brilliant artwork titled "Hibiscus Under Glass".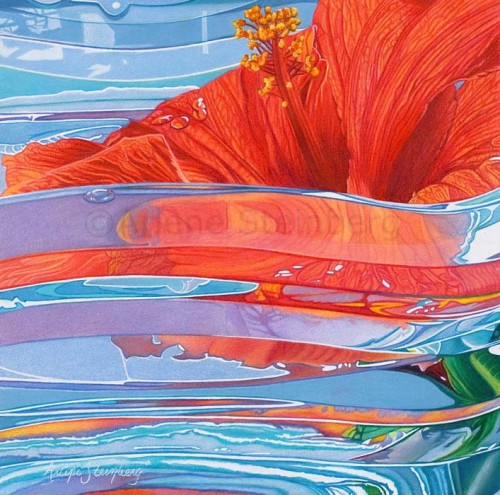 Arlene was also featured on the Icarus Art September 2012 Newsletter.
To view more of her art please visit her website: www.arlenesteinberg.com.
Arlene will be one of the workshop instructors at the 2013 Colored Pencil Society Convention, in Brea, California.