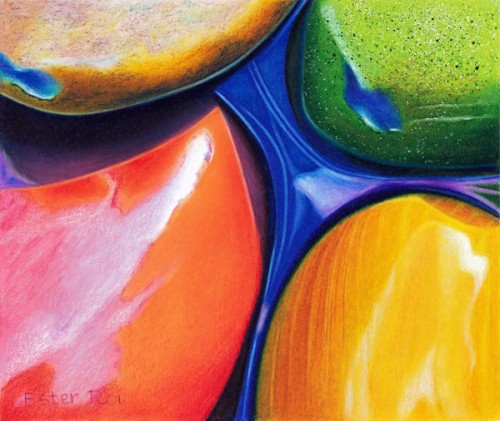 I've just posted the five part video series "Four River Pebbles" to our Icarus Art YouTube Channel. It's a collection of 57 video clips from my 2010 CPSA workshop "Wax and Heat, a Match Made in Heaven".
This project, which was accomplished on white Stonehenge paper with Prismacolor Colored Pencils and Caran d'Ache Neocolor II Artist Crayons, is divided into the following five sequential playlists:
1. Beige Pebble
2. Green Pebble
3. Yellow Pebble
4. Red Pebble
5. Shadows and Water
For my workshop attendees this is a great opportunity to review the techniques learned in Santa Clara, California. For everybody else it's like taking a workshop for free. All voiced-over video clips are available in high definition and come with a downloadable supply list, an outline of the project, and an image of the finished project.
I hope you will enjoy practicing and/or learning the Icarus technique. You are always welcomed to post comments and ask questions either on this blog or on our YouTube Channel.