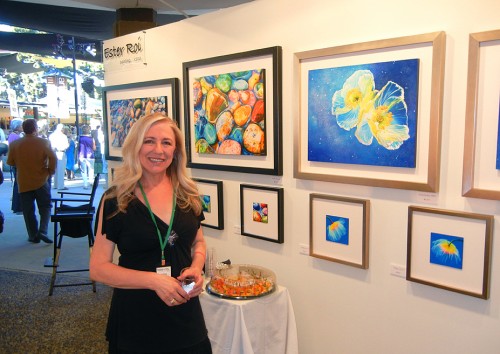 The opening night of the Laguna Beach Festival of Arts surpassed all my expectations. It was an amazing experience with music, fun, food and 4,000 art loving people eager to meet the artists and, even better, buy their art.
I said goodbye to three of my paintings: "Yesterday, Today and Tomorrow", "Social Network" and "River Pebbles, No. 6". I have to admit that I felt a tinge of sadness seeing my art go so soon, especially my latest and largest piece, but at the same time I was thrilled that my babies found a good home. On the other hand my collector does not need "Yesterday, Today and Tomorrow" until the end of summer when he will bring it to his desert home. So I'll be able to keep it in my exhibit as a showpiece for as long as I need to.
The festival will go on a full time schedule on July 5th when it will be open daily from 10:00 am until 11:30 pm. I'm really looking forward to a great summer!
Happy 4th of July!