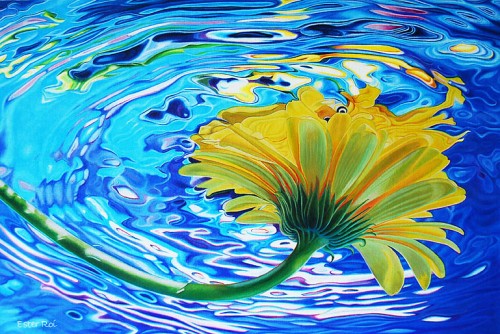 As you can see, I'm finally finished with my experiment on canvas (16'' x 24'').
It hasn't been an easy ride. While family and business obligations kept interrupting my creative process, the other reason it took me so long is that I chose a very complex subject in addition to a brand new technique.
If you need to refresh your memory, you can review the first blog post here: Canvas and the Icarus Board.
As I was layering the colored pencils on the acrylic-painted canvas, I became increasingly unsatisfied. The waxy pigment wasn't adhering nor covering as well as I had hoped. After many hours of trials and errors I finally came to an acceptable solution (see red type below).
Following are steps and suggestions:
Purchase acrylic gesso primed cotton canvas by the yard - tightly woven is best suited - do not use coarse textured canvas.
Cut a piece of canvas about an inch wider on each side than the final size.
Trace your drawing with colored pencils using a light box or a window.
Extend the drawing a quarter inch all around to account for possible misalignment during mounting.
Block-in the colors using acrylics - make sure to cover the whole canvas with paint.
With a sponge roller apply an even layer of Art Spectrum Colourfix Clear Primer

.

This simple step will help colored pencil adhere well to the acrylic painted canvas.
After the primer is completely dry (I waited 24 hours), you can begin layering your wax-based colored pencils on the Icarus Drawing Board at medium heat. High heat will help you blend large areas.
As a last step, clean up all your whites, edges, and details on the cool zone.
Below is a picture of all the colored pencils that I used in this project: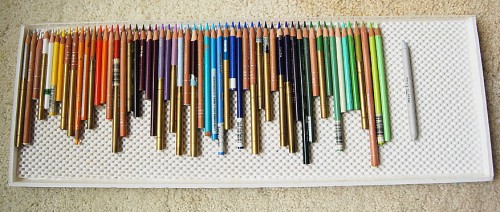 I'm planning to spray fixative, mount the canvas on a cradled board, varnish it, and frame it. I will have more images and give you my final thoughts on a third blog post.
For more on "Canvas and the Icarus Board" please click on the following links:
Canvas and the Icarus Board
Canvas and the Icarus Board: Final Post