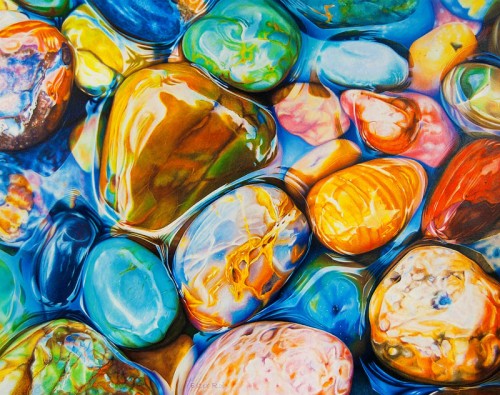 22" x 28" - Wax-based Media (Colored Pencil and Artist Crayon)
Created with the Icarus Drawing Board.
I finished this piece just in time to enter it into the 19th Annual CPSA Juried Exhibition. There's something about this group of pebbles, linked together by water, that reminded me how we are all connected, socially and otherwise.
This year the Colored Pencil Society Convention will be in Dallas, Texas. I will be demonstrating the Icarus board at the CPSA trade show Saturday, July 16, from 9:00 to 2:00.
I have a short demonstration coming up on Saturday, April 30th, in conjunction with the Los Angeles CPSA district chapter meeting. Click this link for directions.