The Colored Pencil Society of America has announced the names of the two workshop teachers for the 18th Annual International Convention and Exhibition in Santa Clara, California. I'm thrilled to be one of them. Here is the announcement: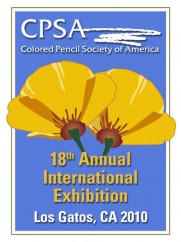 "We have two talented instructors for our workshops on Thursday and Friday of Convention Week. Allan Servoss, CPSA will be stretching our minds and drawing skills with his workshop entitled "Beyond Technique: Drawing from the Heart and Mind. Ester Roi, inventor of the Icarus Drawing Board, will demonstrate and instruct class attendees to "unleash the potentials of wax-based colored pencils" using heat with her workshop "Wax and Heat, A Match Made in Heaven." We will also have a Saturday outing to practice drawing in plein air under the tutelage of Melissa Miller Nece, CPSA. These events provide a great experience for sharing and learning with other artists."
Please check the CPSA blog for more information on the 18th Annual International Convention and Exhibition and their website for the complete Prospectus.