This is a closer look at my second work in a new series of small art depicting some of my favorite subjects.
Title: River Pebbles, No. 2
Size: 5" x 5"
Medium: Prismacolor Premier Colored Pencil (Verithin and Softcore) and Caran d'Ache Luminance Colored Pencil
Miscellaneous: Lyra Splender Colorless Blender, Gray Paper Stumps
Surface: Stonehenge Paper
Technique: Icarus Drawing Board
River Pebbles, No. 2 is mounted on a 5" x 5" Ampersand Claybord with a 2" cradle. If you are interested in learning how I mount and varnish my artwork, you can read the following post: Glassless Framing.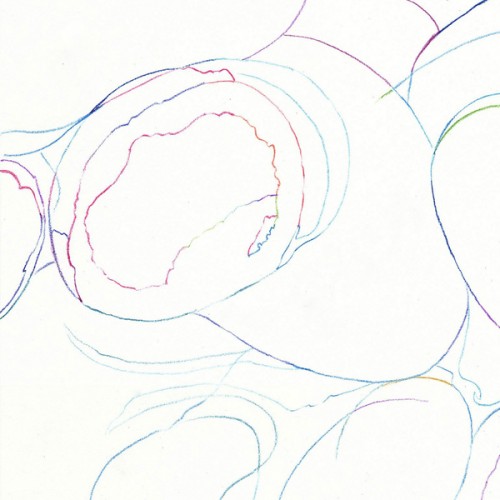 I always use Prismacolor Verithin to draw the outline of my subjects. It's important for me not to add too many details at this point, only the principal lines.
I prefer the back side of Stonehenge paper because it has a little more tooth than the front. That little tooth makes a big difference in how pigments layer, mix and blend, especially on the warm zone. A paper surface that doesn't have much texture is difficult to handle with heat.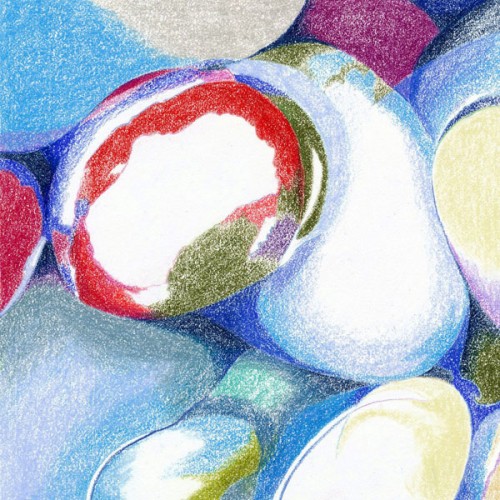 Color mapping on this paper is a little more time consuming than on a sanded pastel paper. I apply my Prismacolor Softcore and/or Caran d'Ache Luminance with medium pressure on the cool zone until 80-90% of the surface is covered with waxy pigment.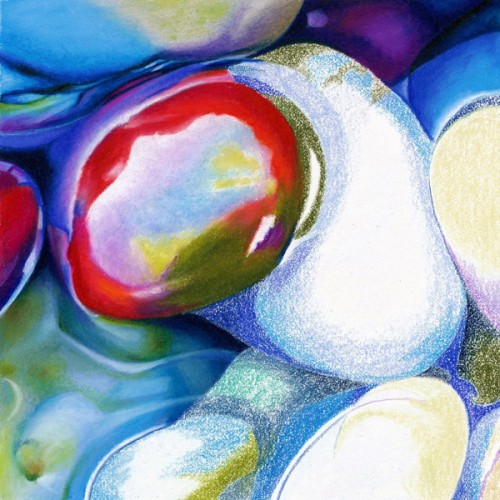 Listed below are the main steps I follow to develop the colors and values on the warm zone (high temperature):
Burnishing: I saturate the paper with pigment until the white of the paper is completely obliterated (I even burnish white colored pencil over the white areas).
Layering: I layer the colors by using the side of the pencil.
Blending: when called for, I blend the base and top color together with a paper stump.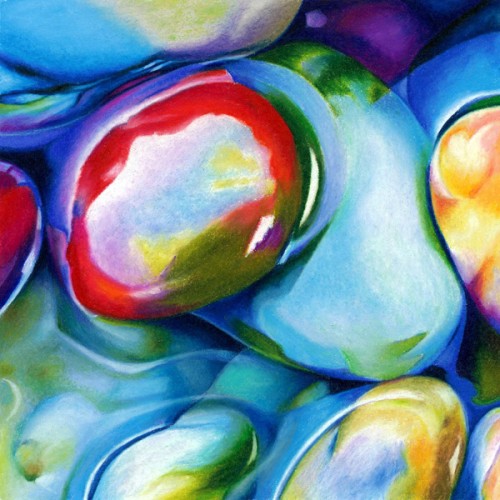 I continue in the same manner as in the previous step until the whole drawing is completely burnished.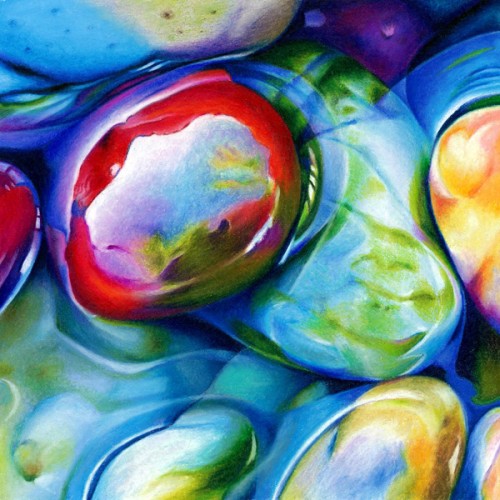 I'm adding more details to my drawing. I use the warm zone (medium to low temperature) to blend some of those details into the background, the cool zone to refine and polish with a colorless blender.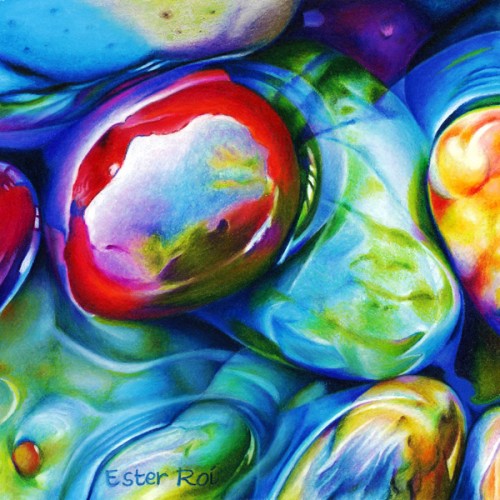 I continue in the same manner as in the previous step until the whole drawing is finished.
I need your feedback:
With my next small artwork I'm planning to start focusing on specific issues.
Do you have any suggestions? Are there any topics relating to my technique and my art that you would like me to address?
For example, Jill asked me to explain how I make my pebbles shine.
I'd love to get your input.