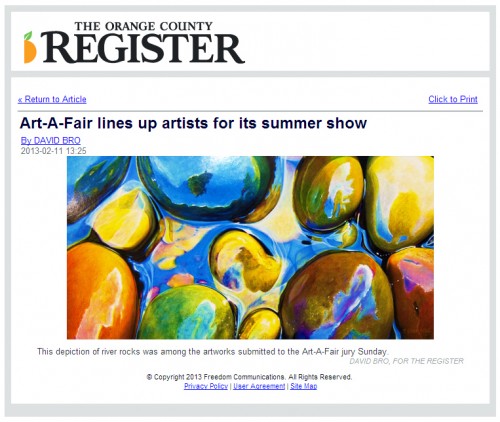 Last Sunday I received great news; I was accepted as an exhibitor at the Art-A-Fair, a Laguna Beach summer festival that will run from June 28 to September 1. In its 47th year, Art-A-Fair welcomes artists from around the world to represent a variety of mediums and techniques in two and three dimensional forms. I'm thrilled to have been invited and look forward to see my collectors, friends and supporters and, of course, to establish many new connections.
Yesterday I was also pleasantly surprised to find out that "Above and Below" is displayed in an online gallery of THE ORANGE COUNTY REGISTER along with 15 other artworks, in an article on the Art-A-Fair jurying process.
Art-A-Fair
June 28 to September 1
777 Laguna Canyon Road, Laguna Beach, CA
949-494-4514
Another important event that will take place this coming summer is the Colored Pencil Society of America 21st Annual Convention in Brea, California. I'm so excited that this year the CPSA convention will take place practically in my own backyard! Their exhibition, a collection of the best colored pencil artwork in the world, is not to be missed.
2013 CPSA International Exhibition
July 31 to September 13
City of Brea Art Gallery
1 Civic Center Circle, Brea, CA