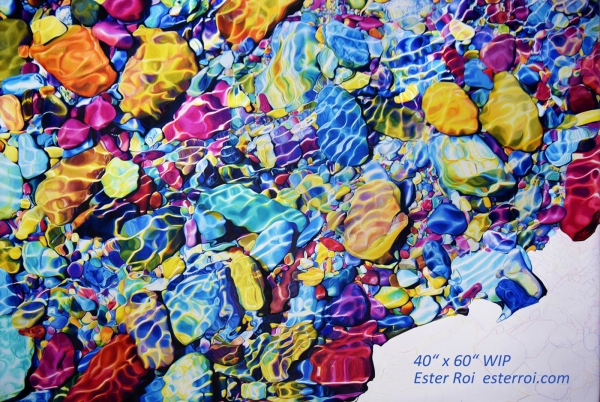 This piece was definitely a challenge due to its size and complexity. So many times I wanted to give up! Over the last few years I put it aside for other artworks; I took several long breaks but always went back to it.
A method that helped me persevere was to concentrate only on a small section at a time, sometimes just a single pebble. I imagined that pebble to be like a small painting so I could feel a sense of accomplishment when it was finished. I then pretended to start a brand new painting with the next pebble. I also never compared how much I had accomplished with how much more I had left to do.
Now I can see the finish line and I'm so proud of myself.
Here is a quote that inspired and comforted me throughout the long process:
"Small steps may appear unimpressive, but don't be deceived. They are the means by which perspectives are subtly altered, mountains are gradually scaled, and lives are drastically changed." ― Richelle E. Goodrich
Size: 40" x 60"
Medium: Prismacolor and Luminance colored pencil, Neocolor artist crayon
Surface: extra fine texture canvas primed with Art Spectrum Colourfix primer

How I prime canvas: https://www.youtube.com/watch?v=nc-I9wz10dI
Development of one pebble: https://www.youtube.com/watch?v=HczdXkNlzg0
Technique: Icarus Painting Board